Free Shipping Policy
Some items may qualify for FREE Ground shipping. These items will be indicated with a note on the product page specifying "Free Shipping." Once added to the shopping cart, the free shipping will be noted. If a customer orders multiple items, with some items qualifying for free shipping and some not, the customer will pay the shipping cost for only items which don't qualify for free shipping. This is automatically calculated during checkout.

Current free shipping offers include:
Black Acoustic Ceiling Tile
Cloud Drop Ceiling Tile
Poly Planks, Poly Blocks, and Poly Panels

Orders must be placed online to qualify for any free shipping offers.
Delivery Times
All in-stock items received Monday through Friday (except holidays), by 3:00 pm EST, will be shipped the same day the order is received. Orders received on Saturday, Sunday, or holidays will be shipped the next business day. We cannot ship to P.O. boxes.
During months of inclement weather, we cannot guarantee transit or delivery times.
Shipping Method
Orders are shipped via Fed-Ex Ground leaving Ohio from zip code 44139. Delivery times vary based on delivery location. Please refer to the Fed-Ex map below for transit times. The tracking information will be emailed to you after 9:00 pm EST on the day your order ships. Please check your email for this information — it's an automated email from our system with your tracking details.
Orders received over a holiday weekend such as Thanksgiving or Christmas will ship on the next business day that we are opened. During months of inclement weather, we cannot guarantee transit or delivery times but we make every effort to ship your item as soon as possible.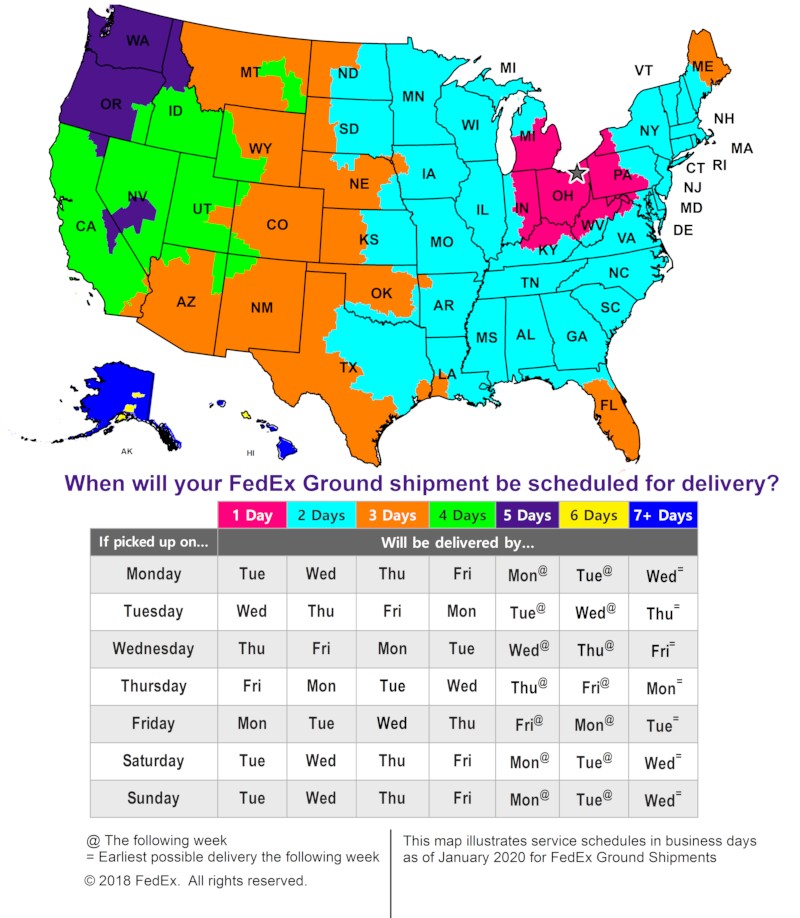 Expedited Shipping
Expedited shipping isn't available online at this time. If expedited shipping is needed, please call us at +1 (833) 473-7850, or email us via the contact form below for expedited shipping options.
Damaged/Defective Items
If items are received damaged or defective, the damage must be reported to the freight carrier at the time of delivery. The damage must also be documented on the carrier's shipping documentation. SAS should be notified immediately at +1 (833) 473-7850.
Additionally, you should retain the original carton, photograph the damage, and contact our customer service at +1 (833) 473-7850. Customer service will provide you with instructions on next steps and where to email your information. Once we receive that, a Return Materials Authorization Number, otherwise known as an RMA, will be issued. Please don't discard the product until instructed by SAS on what to do.
Shortage of Merchandise
In the event you don't receive an item listed on the packing slip, please call us at +1 (833) 473-7850 immediately.
Out of Stock Items
Occasionally, some items may be out of stock. In those instances, the item will be shipped once it's available. Customer service will contact you with the out of stock item's estimated shipping date.
Tracking Information
The tracking information will be emailed by 9:00 pm EST on the day your order ships. Please check your email for this information.
Return Policy
Your satisfaction with our products is important to us. Returns and exchanges will be accepted within 15 days of purchase with a RMA number. The items must be unopened or unused, with original packing materials, accessories, and manuals included. Customer is responsible for return shipping costs unless the items are defective or were damaged while shipping. Items returned after 15 days are subject to a 10% restocking fee. This fee will be deducted from the original sale when the credit is issued.
A refund will be issued once the item is back in our inventory. Please allow time for this. The refund will be credited to your credit card or original payment method. Kindly use the contact form below to begin the process. Returns will not be accepted without an RMA number nor after 15 days. Special order (non-stock) items are NOT returnable.
Privacy Policy
Simply Soundproofing knows that your privacy is important. We do not sell or share any personal information you provide us with any other organization without your express consent. We understand that your personal information is given to us for communication purposes in regards to purchasing and shipping, and we respect that. If you have any questions, please call us at +1 (833) 473-7850.
In some instances, we may use third-party service providers to display ads on our behalf across the Internet. They may collect anonymous information about your visits to our website and your interaction with Simply Soundproofing products and services. They may also use information about your visits to this and other websites to serve advertisements for goods and services. This anonymous information is collected through the use of cookies which most major websites use to store information.
Sometimes, we use a third-party provider to send promotional emails. If you subscribe to any of our email programs, the third party will have access to your email address for the purposes of sending out correspondence pertaining to our promotions and Simply Soundproofing. They have no authorization to use your email address for any purpose other than sending messages from us to you. We do not sell your email information and it remains in our database only.
You may unsubscribe from our email programs at any time by using the unsubscribe link at the bottom of any email sent from Simply Soundproofing.
Pickup Policy
If you place an order online for pickup at our location, the following policy is in effect:
The credit card used for the purchase must be shown when the goods are received. In addition, we'll require you to show a valid driver's license. While this may be inconvenient, it's a security measure to protect both parties.
Send Us a Message
Our helpline is always open to receive any inquiry or feedback. Please feel free to drop us an email from the form below and we will get back to you as soon as we can.